Juggling torches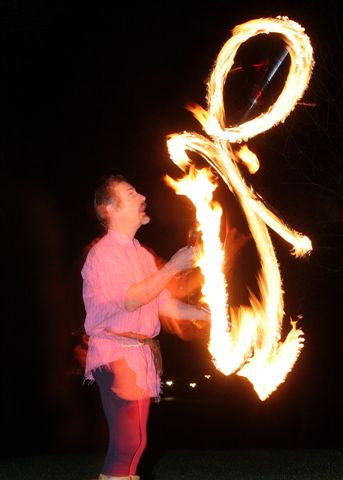 As we all know, every Medieval Banquet or event needs at least one Medieval
entertainer.
The obvious choice would be a Jester.
As one of the top jesters in the country, this Medieval
entertainer can provide a whole host of
entertainment for an event of this theme.
From the very beginning, as guests are arriving, this Medieval
entertainer can create the correct atmosphere by greeting them on
his traditional wooden stilts. At 9 foot tall, this Medieval
entertainer towers over even the tallest guest, but with his cheerful
disposition and corny jokes, he doesn't make anyone feel small. Should the event require more walkabout
than meet'n'greet, this Medieval
entertainer can add juggling or balloon modelling whilst on this stilts.
For a banquet, this Medieval
entertainer can act as MC, introduce the courses, make any announcements required or "get the
attention of the guests" for another speaker. He will entertain during the meal, either by juggling quietly in
the background while people are eating, or wandering around the tables and interacting with the guests.
If space permits, and the occasion demands, this Medieval
entertainer can include 1 or 2 spots between courses, normally of
around 10 minutes each and featuring such skills as juggling, diabolo, object balancing with whatever is at
hand (chairs, flags on poles etc.), lying on a bed of nails and walking over a bed of broken glass. These shows
will include audience participation and can be provide as a single show at the end of the meal
instead if that suits the event better. For a full day of entertainment, the show can be provided as a full half
hour family friendly act.
As a finale, this Medieval
entertainer can offer a 10 -15 minute fire and glow show.
If you would like further details
about this act

please use the form below to contact us.
Or call us on 01723 891441