Blue Living Statue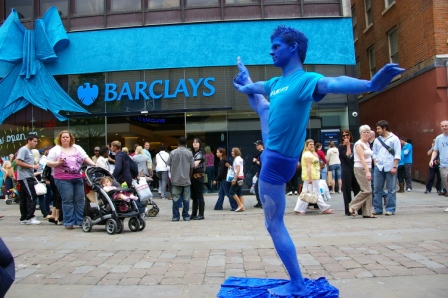 The term living statue refers to a mime artist who poses like a statue or mannequin, usually with realistic statue-like makeup, sometimes for hours at a time. This is an art that requires a great deal of patience and physical stamina.
Living statue performers have been known to pose as shop window mannequins in order to fool passers by, and a number of hidden camera shows on television have had living statues suddenly spring to life to startle people. As with all performing arts, living statue performers may perform as buskers or in commissioned shows. Some living statues are also invited to perform in fine arts exhibitions.
History
The tableau vivant, or group of living statues, was a regular feature of medieval and Renaissance festivities and pageantry, such as royal entries by rulers into cities. Typically a group enacting a scene would be mounted on an elaborate stand decorated to look like a monument, placed on the route of the procession. A living statue appeared in a scene of the 1945 French masterpiece film Les enfants du paradis (Children of Paradise), and early living statue pioneers include the London-based artists Gilbert and George in the 60s. In the early years of the 20th century, the German dancer Olga Desmond put on "Evenings of Beauty" (Schönheitsabende) in which she posed nude in imitation of classical works of art ('living pictures').
There is an annual competition for such performers at Arnhem in the Netherlands. Also, the U.S. city of Laguna Beach, California, is home to the annual Pageant of the Masters show which is created by local amateur volunteers as part of the city's Festival of the Arts. The show presents living statue recreations of several dozen famous artworks in one evening. The show is set to classical music and about two minutes are allocated per artwork. In Portugal, the city of Espinho organizes since 1997 a living statues contest, the Sunday of June near the 16 (the municipal holiday).
Epcot Center in Orlando, Florida has hosted interactive examples of living statues from Unity Productions[1] since April 1995. At concerts for The Dresden Dolls, there are often living statues, as the lead singer/pianist Amanda Palmer was a living statue before starting The Dresden Dolls.
Other uses
In science fiction and fantasy the term often has the opposite meaning: humans (or other humanoid creatures such as elves) who are immobilized by technology or magic and sometimes disguised as real statues, often remaining conscious in the process.
* In Michael Moorcock's fantasy novel The Queen of the Swords, the heroes encounter the Frozen Army that once set out to fight an evil goddess but were turned into living statues instead.
* In the Anne Rice novel The Queen of the Damned, vampire queen Akasha and her husband Enkil turn into statues after remaining motionless for centuries.
* The 2005 movie House of Wax, which depicts a town full of ultra-realistic wax statues who are, in fact, real living people encased in wax.
If you would like further details
about this act

please use the form below to contact us.
Or call us on 01723 891441