Punch and Judy DVD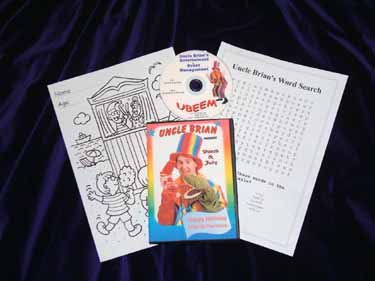 An unique DVD .......
Uncle Brian can now offer you a DVD featuring two of his popular
story-telling puppet shows: Hazel & Curly Locks/Punch & Judy
Traditional Punch & Judy
Punch's origin seems to be lost in time. Some argue that the hook nosed villain was Pontious Pilot in early religious plays, others have the story and the characters based on the life of Punchinello, a little deformed Italian clown. So far as traced, the first Punch and Judy show was seen in Italy around the end of the 13th Century.
The first recorded sighting of Mr Punch in England was on May13th 1662 by Samuel Pepys near St.Pauls Church, London. This was a string puppet. A handbill in the British Museum dated about the beginning of the reign of Queen Anne, invites people to witness the 'Merry Humours of Sir John Kendall's Punchinello'. Towards the end of the 18th century Mr Punch lost his strings and gained a slapstick.
There is one thing quite certain, since he first came to England from Italy over 300 years ago he has never even momentairly lost his popularity.
The first historical story of the play is this Punch , who is left by Judy to mind the baby, in a fit of jealousy strangles his infant child.Judy has her revenge and belabours Punch with a bludgeon until Punch, exasperated, beats poor Judy to death.Then Punch throws the bodies of Judy and the baby out onto the street, where they attract the attention of the Policeman. Mr Punch is then taken to prison, from which he escapes.
The rest is a tale in which the wicked Punch triumphs over the fatalities. First boredom in the shape of a dog is welcome. Secondly, the death in the disguise of the Doctor is knocked out then beaten to death. Next the Devil himself is outwitted, and Punch, hanving escaped the hanging, still lives to travel up and down the countryside amusing both young and old.
True the play has changed and it is now directed to children, whereas it was once an adult presentation. Many of the old characters have gone, replaced by Joey the Clown, the Spider and the Crocodile, but the centre-piece of the drama is still the same old rogue, hated and loved all at once, still dressed in a handsome coat of scarlet and yellow with a clownish cap to match and still calling, in the peculiar and distinctive squeaky voice of his, 'Judy come on and give us a kiss'. He has become a tradition, indeed part of England itself.
Hazel Witch & Curly Locks
Why do they call Hazel a witch? It is not as though Hazel is the kind of lady who goes dancing with devils and demons. Some say long ago Hazel was a fascinating bohemian girl who ws given her title witch purely as a monosyllabic description.Others point to the bend in her stance arguing that the surname is a recent characterisation derived from that old-english prefix of wych. Whichever is true Hazel has developed a beautiful technique of encouraging folks to viewproblems from a different standpoint. Hazel is a bit of an agony aunt. Someone with whom to share life's burdens.
Curly Locks thought her dream had come true when an official royal invitation to the mid-summer ball arrived in the post. This would be an ideal opportunity to fulfil one of every girl's ambitions. A dance with Prince Charming. In preparation for the event Curly washes her locks but cannot do a thing with them. With a name like Curly Locks one has to care for the look of one's ringlets. Going out with straight hair would open herself up for ridicule. Who can save Curly Locks from social embarassment of being seen in public with straight lank hair? Hazel Witch to the rescue......
If you would like further details
about this act

please use the form below to contact us.
Or call us on 01723 891441