Is It Sinatra?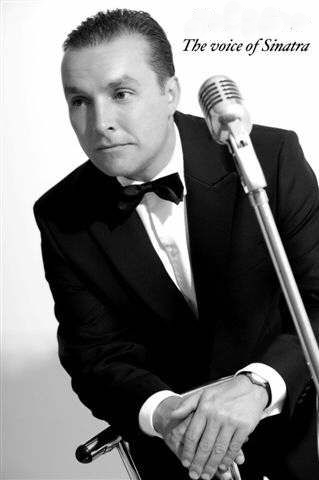 Make your event the talking point of the year by booking the very best Sinatra singer around. Perfect for weddings corporate events, parties and all those special occasions.
Listen to samples of Jim's fabulous voice and you will find yourself asking...
IS IT SINATRA???
About Jim
Jim is acknowledged as one of the finest performers, by seasoned professionals and agents across the country! His Sinatra tribute is, without doubt, truly remarkable and stunningly accurate!
Singing with a full 16 piece Big Band, 6/5/4/3/2/ piece or on his own with backing tracks - this voice has to be heard to be believed. Not convinced? Well listen and be prepared to be blown away!
All requirements can be catered for at affordable rates. Jim's vast repertoire of Sinatra songs can be viewed on below and such a wide choice means there is always something for everyone, whatever the occasion.
Jim is an established singer and has been entertaining the public for many years. The burning question still remains....Is It Sinatra???
Read more about Jim below.
Jim has sung at all the major theatres, including his own sell out concert at Dudley Town Hall with Chris Dean, (SLO), and sung at Big Band Swing weekends, including The Glen Miller Festival in front of over 10,000, at holiday camps and all types of parties. From big budget weddings at The Stoke Park Club, Stoke Poges, to the launch of Peugeots new car with the Midland Youth Jazz Orchestra, BMW, Hello, Mitsubishi, The Foreign Office and local birthday celebrations to restaurant openings and functions, all options can be catered for.
His latest booking resulted in a complete sell out 3 weeks before due date in a very upmarket restaurant. Jim had an audience of over 800 at his own Sinatra concert at Dudley Town Hall , sold out at Liverpool Philharmonic Hall with a 32 piece live Orchestra and had several sell outs around the country with the Syd Lawrence Orchestra already.
Weddings for corporate clients have been booked 2 years in advance and now singing at event organiser's own weddings. What better testament is there than that? When time allows Jim enjoys singing with a touring Rat Pack show, and is considering offers from Europe, South Africa and the USA for tours next year. Major corporate clients have booked Jim for next year. Jim has several original tracks in the process of being recorded, one of which was written and accepted for, but never recorded by, Sinatra. It was given to Jim by the widow of the writer, after she heard Jim sing, and was amazed at how good he is.
Frank Sinatra was an icon of American musical cool – Today the legend lives on and Jim is committed to providing a lasting Sinatra tribute which is second to none.
The official career of 'Old Blue Eyes' was singing: he began as a lathe-thin crooner during World War II, and matured into the most respected singer of popular music of his generation. Big band and swing was the popular music of the day and Frank Sinatra was a master front man of the big bands.
Sinatra also took up acting, winning an Academy Award for his performance in From Here To Eternity (1953, with Burt Lancaster).
Frank Sinatra developed a reputation as a well-dressed, fast-living, fist-fighting swinger, with a top-dog swagger that earned him the nickname 'The Chairman of the Board.' There have been many suggestions of Franks liaison with The Mob – but his high profile showbiz career always eclipsed these stories.
He was the leader of the Hollywood 'Rat Pack' of the early 1960s Other members of The Rat Pack included Dean Martin, Sammy Davis Jr. and selected others. There is a great current resurgence of interest in The Rat Pack and a West End Tribute show is currently playing to packed houses.
Jim auditioned for that show, before turning professional, but decided to concentrate his efforts to fronting his big band Tribute to Frank Sinatra – due to incredible and continuous demand for his own special LIVE show.
Musically Frank Sinatra was a stylish, heartfelt singer of old-school standards like Come Fly With Me, New York, New York, All the Way, Strangers in the Night and One For My Baby (And One More For the Road). Jim carries all these standards in his repertoire plus many others.
If you would like further details
about this act

please use the form below to contact us.
Or call us on 01723 891441