Rat Pack Vegas Spectacular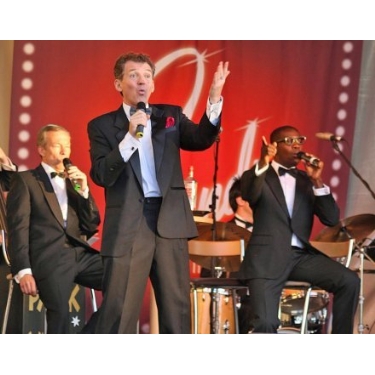 1 The Rat Pack Vegas Spectacular
Featuring live in person - The Rat Pack Trio
The Rat Pack Trio Orchestra.
The Fabulous Vegas Dancing Girls
Plus very special guest - Marilyn Monroe
This has to be the most fun show available today.
Successful at major venues & stadiums worldwide.
2 Rat Pack Trio - on playback
Superb backing tracks by the likes of Nelson Riddle Orchestra.
If the live band is not feasible - then this is the show for you.
3 Rat Pack Solo Show
Hipsville - The Rat Pack Vegas Experience - on playback
Solo show with excellent backing tracks covering great Rat Pack songs by Frank Sinatra, Dean Martin, Sammy Davis & other Vegas greats plus Wayne blows some live tenor saxophone on solo gigs.
Show booking options
Extras ......
Marilyn Monroe
Make no mistake - this is a very special enhancement of the show In fact, its probably even better than winning the lottery !!!
Girl singers
We have several ladies we can feature - all have excellent voices. They also add a touch of glamour and style to our swingin party.
Dancers
For the big stage production - they are the finishing touch. Stunning outfits in beautiful colours that never fails to appeal. Here are of some of the dancers that we can use in the show.
Video Screen
Using our big screen video projection we can take the audience
on an amazing trip that is yet another spectacular show addition.
Pre event video production is also available for a one off event.
NOTE: THE PRODUCTION OF ALL THESE OPTIONS AVAILABLE remains the same and to the high standard that we are renown for whether you book the most affordable or the most expensive show.
Successful shows and rave reviews all over the world.
Great songs, great singers plus an abundance of fun
all cleverly combined to guarantee a wonderful time.
Currently selling out theatres, casino's and events worldwide.
Great Britain - USA - Turkey - Switzerland - Germany - Ireland
are just some of the countries to benefit from great times !!!
As featured on TV in many of the great swingin nations above.
The Rat Pack Vegas Spectacular
Our most prodigious production and all totally live show
featuring live in person
The Rat Pack Trio - The Fabulous Vegas Dancing Girls
The Rat Pack Trio Orchestra and very special guest
Marilyn Monroe in a prolific slice of pure magic.
Bring the hippest and hottest show on the planet
to your event and like Frank Sinatra be Mr Success
To produce a memorable soiree you need a great show,
smart move - you have come to the right place baby.
Available in several different formats to suit most venues,
get a quality show and truly fitting tribute to The Rat Pack.
As upstanding members of the entertainment community,
we are never biased or prejudice in any way shape or form.
Whilst never being involved in or condoning organised crime,
corruption,money laundering and other such similar activities,
we are prepared to accept large bags of cash from anyone.
Purveyors of cool!
Bringing good times & great tunes in a wonderful show
with an abundance of class, style & stunning panache.
Its fun fun fun all the way - as we take you on a trip
back to unforgettable halcyon days of hip and cool!
As Sammy sings -
Life's A Ball If Only We Knew It And Its All There Waiting For You.
Dean Martin portrayed by Wayne Kennedy
Being responsible for the show's inception and every aspect of it
is quite an undertaking, particularly when he often also attempts
millions of other things at the same time.
However being a veteran of over 200 TV appearances thankfully
he manages to take most things in his stride.
Wayne's solo show 'Hipsville - The Rat Pack Vegas Experience'
still remains one of his main projects and this also allows him
to indulge in his passion for playing tenor saxophone.
Although still based in his beloved rural roots of Derbyshire,
England the last 20 years have seen him constantly flying
around the globe including over 200 trips to the USA.
Loves the Trio dates because playing Dean is such fun.
Offstage 'Mr Health and Fitness' is quite a fanatical sportsman
- jumping horses, cycling up the biggest French mountains,
playing or coaching football plus running and weight training
in his spare time!
If you would like further details
about this act

please use the form below to contact us.
Or call us on 01723 891441