Safari Show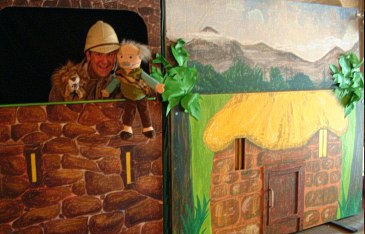 Uncle Brian meets a variety of puppet characters during his search for the long lost treasure on safari.
The Safari show opens with the audience shouting 'It's behind you' in a traditional pantomime style routine as a monkey pops up and down in various windows of the jungle mud hut.
Two or three boys and girls win balloon wands which they use in an attempt to catch the monkey.
This leads into the puppet show with lots of audience participation and interaction between the children and characters of the puppet show.
The puppet show is based around Aesop's Fable of the Lion and the Mouse.
The Lion is asleep when the little Mouse begins running up and down upon him; this soon wakens the Lion, who places his huge paw upon the mouse, and opens his big jaws to swallow him. 'Pardon, O King,' crys the little Mouse: 'forgive me this time, I shall never forget it: who knows but what I may be able to do you a turn some of these days?'
The Lion is so tickled at the idea of the Mouse being able to help him, that he lifts up his paw and lets the mouse go.
Some time after the Lion is caught in a trap, and the hunter who desired to carry him alive to the King, keeps him tied up while he goes in search of a wagon to carry him on.
Just then the little Mouse happened to pass by, and seeing the sad plight in which the Lion was, went up to him and soon gnawed away the ropes that bound the King of the Beasts. 'Was I not right?' said the little Mouse.
Little friends may prove great friends.
The final act of the pantomime is the magic part of the show. A spell is needed to reveal the long lost treasure. This production was introduced by Uncle Brian at Castle Howard on May Bank Holiday 2008. Have your own stage production in front of a backdrop of 11ft x 7ft, comprising a jungle mud hut and a tree house from which the puppets appear.
If you would like further details
about this act

please use the form below to contact us.
Or call us on 01723 891441