Close-Up Magician Philip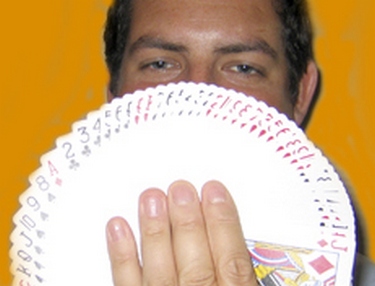 Every occasion calls for something special. At your function or event, magician, Philip can be on hand to entertain your guests by performing astonishing close-up magic and mind reading miracles right in front of their eyes.
Magic is a new experience for most people having only seen it performed on TV before. Because of the intimacy of close-up magic, groups, people participate in a way that most other forms of entertainment just don't allow for. Your guests will not be performed at but will be gently involved in the magic - even to the point where it's happening in their very own hands! making it perfect for any function, party, cocktail reception or corporate event.
No matter how many guests or clients you are catering for they will all be amazed and will take home a lasting memory they'll be talking about for a very long time!
Weddings: More and more people are looking for something different for their wedding reception. There are times throughout your Big Day where your guests are waiting around for one thing or another. A close-up/table magician can make a lot of difference, either entertaining the guests while you are having your photographs taken after the ceremony or moving from table to table in between courses of the wedding breakfast.
Philip's unique wedding performance creates interaction with everyone present and sets the perfect atmosphere for your special day. Having close-up magic at your wedding reception is the perfect way to break the ice and get everyone into the party spirit.
Restaurants: Your restaurant may be so successful that your customers have to wait before they can be seated. Once seated, they may once again have a wait for their meals to be served. On the other hand, you may have less traffic in your restaurant than you would like. Maybe your lunch hour is busy, but you would like more guests in the evening. Which ever, Philip can help in either situation offering amazing feats to keep your customers coming back again and again...
Hotels: Maybe your hotel needs a touch of magic, whether it's your lounge, bar or restaurant Phil can provide you with first class entertainment to amaze your guests or clients helping to make them feel right at home and relaxed.
Philip has performed at private functions since 2002. His unique close-up magic will astound you and make your event stand out from all the rest.
Whether at tables, or in a mix and mingle environment, cards, coins, mind magic and other small objects are used to astound and surprise family and friends at your celebration.
Philip is available to perform at any type of private party, ie. Birthday Celebrations, Wedding Anniversaries, Christenings, Weddings, Christmas and New Year Parties.
If you are organising any type of function and you want to add a sparkle of magic, Phil Shaw will impress your guests and create a wonderful atmosphere to any occasion.
Make your next corporate event an EXCLUSIVE magic occasion
A touch of magic makes all the difference when you're trying to break the ice at a product launch or organize a successful trade show. If you need something special, then Philip's Corporate Magic provides the perfect solution.
Amazing entertainment
Close-Up Magic is a flexible form of entertainment and is ideal for any corporate event. Philip can mix and mingle with your guests, colleagues and/or clients during drinks, dinner or at an exhibition stand and amaze them with outstanding sleight of hand miracles. If you want to enhance your event and get people talking, Magic will do the trick every time.
Conjure up an audience
Trade Show Magic is ideal to seize passers-by and stop them in their tracks. When they have been amazed and entertained they can be introduced to the awaiting sales team. Philip's magic is the ideal crowd-stopper at any trade show exhibition.
If you would like further details
about this act

please use the form below to contact us.
Or call us on 01723 891441