Fire Eater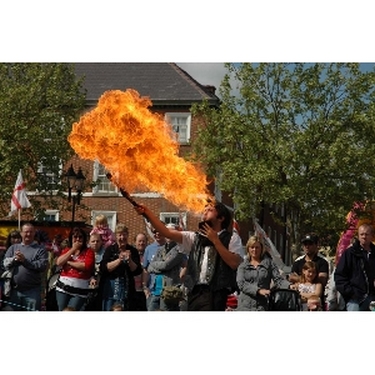 Fire Eating, Flame Blowing and Fire Eaters have a 'mystical' air about them. Are they real? - Did that relly happen? - How do they do that? Feel that heat.
Some fire shows can be used on stage or as an impromtu wandering act.
Fire eating is perfect for evening events and promotions.
Usual venues for a fire eater include:-
Corporate Functions, Promotions, Openning Days, Shopping Centres
Bonfire night, Hall Balls, Restaurants, Banquets, Parks, Family Days
Medieval Events, Theme Days, Cabaret, Summer Shows
Anniversaries, Weddings, Fun-days, Festivals, Market Days
Town Squares, Pedestrianised Areas, Parties, Castles
Indoor or Outdoor
Changes and Alterations to fire eating act if outside the elements can have a marked effect.
Some performers fire breathing and eating fire for safety reasons can only be performed outside.
Fees vary according to venue, date and time. Prices subject to VAT, availability, accommodation and transport costs where applicable. Prices include £1 million PL
Fire Acts available include Fire Jugglers, Fire Breathers, Fire Dancers, Pyrotechnics, Grinders and Fire Eaters.
There is a range of fire eating acts suitable for both outdoor and indoor events. Many of fire eaters also perform with glow and UV equipment which is fantastic to watch, very colourful and can be used if fire is not suitable.
If you would like further details
about this act

please use the form below to contact us.
Or call us on 01723 891441