High Striker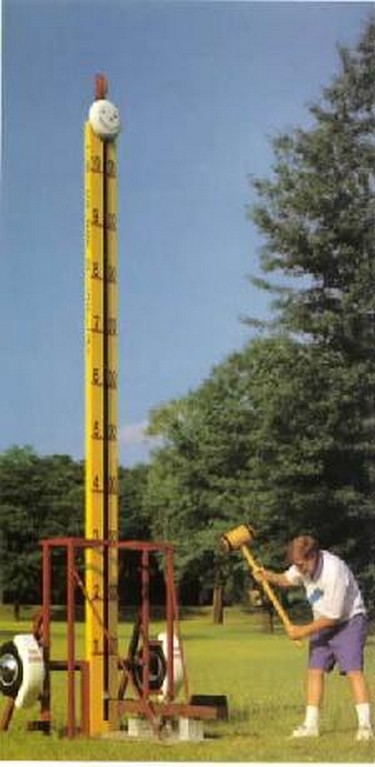 High Striker, which were traditionally seen at the fair grounds provide great entertainment for all the family at any types of event including:
Corporate & Promotional events
Team Building & Competitions
Charity & Fun Raising events
Family Fun Days
Great earning potential..
High Strikers provide great earning potential at money taking events such as Gala's, Fetes, Shows and Family Fun Days, and are ideal for any Charity or Fund Raising promotions.
Features include:
* Super strong steel structured base unit
* Adjustable strength level base unit
* Ideal for both adults and children
* A quick & easy set-up
* Easily transportable
Quick & easy set-up……
High Strikers can easily be set-up by one person in less then 5 mins.
How to play…….
With the mallet provided, each player has to hit the center of the base unit as hard as they can, which will send the metal mouse up the center of the fiberglass tower towards the large bell at the top.
On the right hand side of the tower is the strength score level which starts at 10 and goes upto 100. The harder the player hits the base unit the further the mouse will travel up the tower, and this will certainly sort out the MEN from the BOYS ……….
The aim of the game …….
Each players aim is to send the mouse to the top of the tower and ring the Bell, and by awarding a prize to each player who manages to ring the well, will certainly attract more players to play the High Striker !
Easily transportable…..
High Strikers can easily be transported in most commercial vehicles.
A High Striker can be supplied to you today.
Fully adjustable base unit…..
The robust steel structure base unit is fully adjustable, which allows the operator to be able to adjust the strength setting, thus allowing adults as well as children to enjoy this popular traditional game.
If you would like further details
about this act

please use the form below to contact us.
Or call us on 01723 891441