Megadome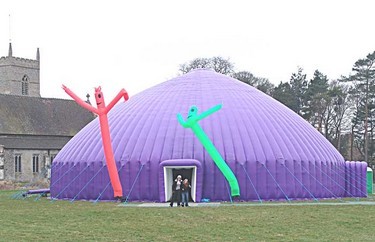 22m diameter and 13m high
At this size it is ideal for business conferences, seminars, weddings, parties, discos or any other big event. Up to an amazing 400 people can be accommodated. And it can take a dance floor.
What you get:
A Sound & Light insulated marquee with two tunnelled public entrances.
A dance space for over 450 people or 180 people seated at banqueting tables.
A stage area for band, performers, DJ's & public speakers.
A PA suitable for voice enhancement and very high quality audio.
A programmable light show, daylight, safety and emergency lighting.
All surfaces erection; concrete, grass, even inside an existing building.
Specifications:
Internal diameter 20m approx.
Height to eaves internal 2.4m
Height to apex 7.5 approx
Entrance & exit
Width 1.8m
Height 2.1m
Length 1.8m
Service Entrance
Wight 3m
Height 3m
Length 0.7m
Internal Colour White
External Colour Purple
Extras to be considered:
Flooring
Tables & Chairs
Power Supply
Outside Lighting
Back Drops
Catering
Heating
Just ask.
If you would like further details
about this act

please use the form below to contact us.
Or call us on 01723 891441