Wall to Wall Football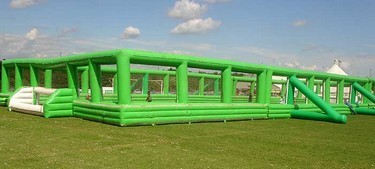 The Wall to Wall Football Court is an instant, inflatable, regulation size five-a-side court.
It provides a flexible, versatile solution to the provision of quality arenas for exhibitions, road shows, tournaments, coaching, beach soccer and corporate events.
The court has the unique ability to turn almost any area into an visually exciting 5-a-side arena. It can be used on any surface from grass to sand and provides an almost unique stadium feel.
The court is totally enclosed at the sides, with side netting and inflatable walls providing an excellent and safer alternative to the traditional boards used for 5-a-side. The courts are designed to keep the ball in play to promote a fast, skillful and flowing game.
The courts are a sponsor's dream - Any branding scheme can be incorporated - both permanent and non-permanent. There is room for 44 removable, re-usable banners, which can be sold to third party advertisers. This is an excellent opportunity for corporate branding.
The court price includes all air fans, support poles, bases, side netting and a one-year manufacturer's warranty.
We can help you to establish and run a programme of events with the court. We can supply teams to deliver and operate the courts, as well as any event staff you may need including referees, health & safety, promotional staff, caterers and operations staff.
If you would like further details
about this act

please use the form below to contact us.
Or call us on 01723 891441