Saloon Bar Shoot Out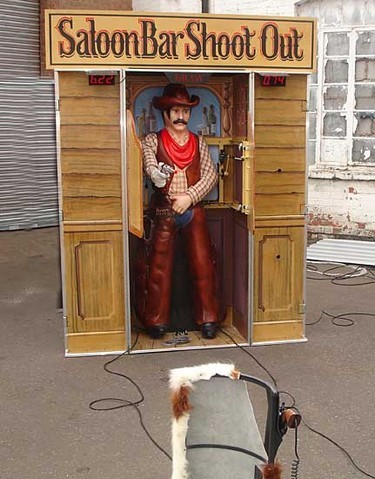 Our Saloon Bar Shootout features an illuminated bar themed cabinet, swinging saloon doors, as well as a 3D fibreglass cowboy complete with robotic arm movement.
Wild west gun fire, honky tonk piano music, and even the world famous FUNERAL MARCH music by Frederick Chopan is played, which only adds to the authenticity of this fantastic and unique quick draw game.
How to play ......
The 2 players have to stand in front of the saloon bar in the free-standing chaps, and stand ready & prepared to draw their guns as soon as the saloon doors open.
At the top of the saloon bar there is a DRAW sign. This sign will illuminate when the saloon doors open, together with additional lighting which is positioned inside the cabinet.
When the saloon doors open, each player has to reach for their Colt 45 gun and shoot the cowboy, and as long as the players fire towards the saloon bar, then each players time will be recorded.
The players times are recorded on the digital timers which are displayed on the top left and right hand side of the saloon bar.
When each player has shot the cowboy, they will be greeted with the sounds of gun fire and very distinctive music of the FUNERAL MARCH...... The player with the quickest time is the winner !
Whilst the game is not in use, western theme honky tonk piano music will be played at intervals of 3/4 mins. which will attract the attention of spectators and new players in the vicinity.
This shootout really is state of the art.
Yee Har Pardners!!
If you would like further details
about this act

please use the form below to contact us.
Or call us on 01723 891441