Under The Edge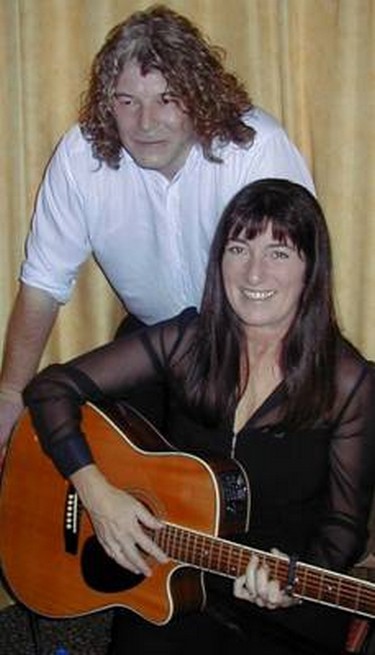 Tina Morgan & Alex Donnelly
An Acoustic Duo. That means there are just the two of us playing acoustic guitars and singing. We do not use backing tracks, we simply arrange some great songs and really and honestly perform them live. Tina is the vocalist and plays rhythm on her Takamine acoustic whilst Alex plays lead on his Washburn guitar. He's a great guitarist and really makes a song come to life.
Both Tina and Alex have performed professionally for many years and have a deep love of music. We are based in Welwyn Garden City in Hertfordshire but are happy to perform in different places around the country (or even outside the country).
SONG LIST
Our song list spans a number of decades and includes soft and gentle love songs, as well as lively and uplifting numbers. They are all recognisable and will enhance the atmosphere of any event or venue.
Here are some of the songs we cover:
Baby Can I Hold You
Come Away With Me
Forever Autumn
Careless Love
Sweet Dreams
Wishful Thinking
Jesse
Golden Brown
Breathe
Broken Arrow
Harvest Moon
God Only Knows
Warm Love
Mercedes Benz
Runaway Train
One of Us
Paper Moon
Autumn Leaves
Daydream
St Tropez
What a Wonderful World
And She Was
Push the Button
These Boots are Made for Walking
Take it Easy
Hit Me Baby One More Time
Linda Paloma
Bare Necessities
Fields of Gold
Big Yellow Taxi
Humble Me
It's Oh So Quiet
Weather With You
Careless Love
Give Me One Reason
Down Under
Your Love is King
CONFERENCES & CORPORATE EVENTS
Live music creates a relaxing and comfortable ambience. Perfect for the end of the conference during dinner, or perhaps before the meal in the bar or even at the end of the evening to help your delegates relax and wind-down before retiring.
Your Summer barbeques, garden parties or business lunches will be unmissable and unforgettable.
Private Functions & Parties
Stimulate your guests with some nostalgic songs from the 40's to the Nought'ees. They'll love the selection of songs from slow, smoochie love songs to singalongs. See the song list.
Weddings & Formal Dinners
Tired of string quartets and jazz. Treat yourself to live acoustic arrangements of familiar (and not so familiar) songs all performed with love, tenderness and a little passion. A truly superb experience.
Restaurants & Pubs
A perfect sound to entertain your customers. Not too noisy or intrusive. They'll enjoy the peaceful, easy feeling we can create together and want to come back for more.
If you would like further details
about this act

please use the form below to contact us.
Or call us on 01723 891441