Scottish Bagpiper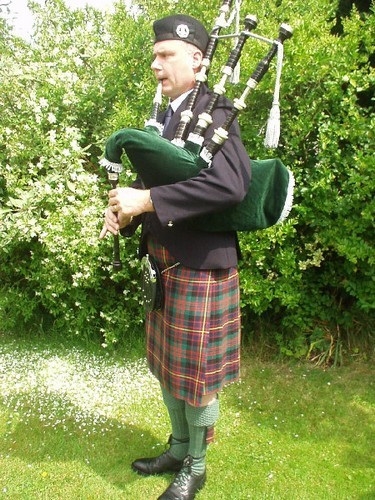 Scottish Bagpiper for hire for every occasion - Funerals, Weddings, Burns Celebrations, Remembrances - Piper Hire of the highest quality.
Hire a high quality solo Scottish Bagpiper for all occasions - Weddings, Funerals, Corporate Events, Burns Suppers. A reliable and tasteful service.
Access to a number of top quality Bagpipers who play at solo competition level and who also play, or have played in, Grade One Pipe Bands.
Bagpipers all wear full smart highland NUMBER 2 dress which consists of kilt, sporran, shirt, tie, jacket, glengarry and brogues. All Pipers are experienced, professional performers.
If our resident Piper is booked up, we will make every effort to help.
WEDDING BAGPIPER
A smartly turned out Piper to perform for you and your guests.
The Piper can enhance your special day -
Piping for your guests arriving, piping in the bride, piping out the happy couple, piping in the top table. The choice is yours.
After all, its YOUR big day.
The piper can provide a dignified and traditional salute without becoming the centre of attention. Pride of place should always be the bride and groom - especially the lovely bride!!
Contact us to discuss your individual requirements, any particular tune choice, timings etc.
Civil partnership enquiries welcome.
Scottish Highland Bagpipers have traditionally played at funeral services of all types as a means of showing respect to the deceased. There are various ways a Piper may be utilised.
CREMATORIUM
To pipe the deceased into the building. Pipe family and mourners out.
GRAVESIDE
To pipe the deceased and mourners to the graveside. To pipe away from the graveside whilst the family pay their final respects. To pipe for family and mourners as they leave.
A Scottish Bagpiper could pipe the deceased from the family home.
The deceased could be piped into the place of worship be it a church, funeral parlour etc.
APPROPRIATE TUNES
'The Flowers of the Forest' is a traditional lament often played with great effect by a Scottish Bagpiper.
'Amazing Grace', 'My Home', 'The Mist Covered Mountains' are examples of other tasteful and traditional airs which might be played by a piper.
Whatever music is played, it is the wishes of the family (including the wishes of the deceased person) which are of first importance. After all, the pipe music should act as part of the salute and final goodbyes to the deceased.
The Bagpiper is there to provide a dignified and moving salute to the deceased.
If you would like further details
about this act

please use the form below to contact us.
Or call us on 01723 891441