Stunt Display Team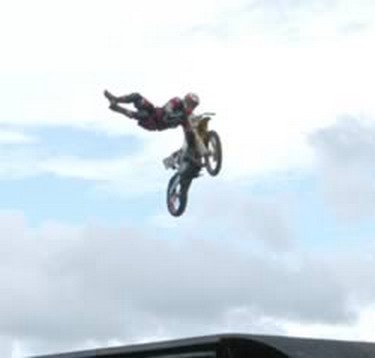 The Show
Overview
Trick riding is taken to another level with this freestyle team, who provide a unique, non-stop show, using Britain's best extreme sports participants, introducing the articulated mobile freestyle ramp. After initial assembly, the ramp can be taken in and out of an arena within 10 minutes and can be used on tarmac and grass.
This freestyle team will perform at over 30 events each year, including Motorsport Shows and Competitions, Corporate Days, City and County Shows both home and abroad. In fact the team will present itself to over 3 million people "LIVE" in the coming year and achieve massive press coverage both before and after each event.
The Programme
The show features a freestyle motocross competition, that with prior arrangement could be part of the national series. The show also includes jumps over cars, wheelies and slam dunking basket balls at over 30ft in the air.
"It's more than just freestyle, it's a non-stop show that will entertain everyone from motorsports enthusiasts to the general public"
At some events with prior arrangement by the event organiser, other extreme sports may be included in the show such as BMX and skateboarding.
Where there is a tarmac strip available, with prior arrangement with the event organiser, a rider can demonstrate superbike and supermoto on-road freestyle tricks.
Performances
The team can perform 2 X 45 minute performances which includes taking the ramps in and out of the arena. Alternatively they can perform 4 X 20 minute performances providing the ramps can be left permanently set up in the arena. The team have a flexible show that is tailored to the individual event.
Self-contained Sound and PA System
This freestyle team provide an exciting commentary for each show either using the event's public address system or the integral sound and PA system on the mobile landing ramp.
Interactive Stand
Outside the main arena, the team invites the public to their new interactive stand where they can meet the riders and find out about extreme sports. There is also a computer game challenge where you can race motocross on a TV screen, and watch the latest extreme sports action on video. A complete package designed to give value, both on and off the machines.
If you would like further details
about this act

please use the form below to contact us.
Or call us on 01723 891441