Temporary Tattoos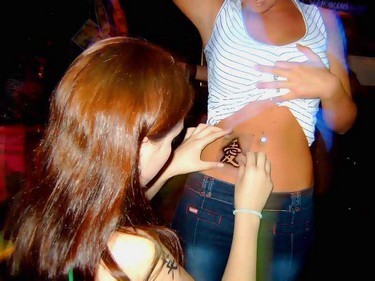 Most unique fast artistic and modern way of Temporary Tattoos and Tribal Armband.
Airbrush tattoos and temporary tribal armbands are a fun, new way to entertain children of all ages! This method of temporary tattoos is so cool that adults will love it almost as much as kids. We've entertained thousands of adults and children alike at festivals, fairs, corporate events, restaurants, parties and other special events. The designs are just so incredibly awesome that everybody will want to join in the fun!
Temporary Tattoos aren't just for arms anymore either!! Nope..... we can also airbrush arms, legs, belly buttons, necks... even your hair!!! The quality of airbrush tattoos is phenominal. The spectacular airbrush creations are designed not to smudge. They look almost like tattoos and stay bright and vibrant for hours!
Using a combination of stencils and freehand designs, we can create incredibly bold and colourful images that range from fanciful butterflies, mystical dragons and fierce tigers to whimsical teddy bears, stunning arm bands and cosmic belly buttons. We can even airbrush your corporate or event logo! Take a look in our photo gallery for just a small sampling of the detailed and intricate designs that we can create. We have over 100 designs for you to choose from!
The airbrush method not only produces awesome results, it is also the safest and fastest face and body painting method around. One artist can paint approximately 45-50 incredible designs in about an hour. We use hypoallergenic airbrush make-up and top quality theatrical supplies.
The airbrush method of temporary tattoos is extremely popular at major theme parks in the United States. Let us bring the excitement and fun of airbrush tattoos to your next special event.
This is the most unique fast artistic and modern way of temporary tatoos. Using the most advanced and sophisticated equipments and a large range of artistic possibilities. This unique system is the latest and most advanced on the market. Suitable for all occasions. Our method of temporary tatoos is unique and fast! We use stencils and glitter to airbrush images onto your cheek or arm. Adults will even be drawn to this unique experience. We can create customized logos to represent your company logo/school.
Area Required: 8'L x 8'W
Power: (1) 240v 13amp Circuit
Staff: Labor included in price
If you would like further details
about this act

please use the form below to contact us.
Or call us on 01723 891441