Wild West Show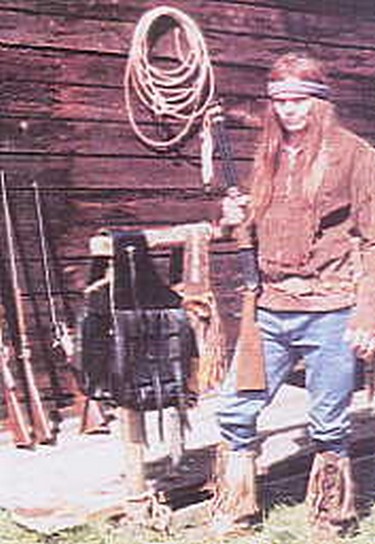 TRIGGERNOMETRY
No your not going back to school you're watching some mighty fine twirling of the six guns, they leave the holsters like lightening, spin in the air, make cartwheels, spin-wheel butterflies - all the tricks of the gun spinner and come back into the hands of the fastest man this side of the Rockies - THE SUNDANCE KID - FAST DRAW title holder,
Triggernometry
FAST DRAW
Have a go at some fast draw, strap on a rig and live the part of The Gunfighter - go up against some mighty fast Hombres.
Fast Draw
STUNT FIGHTS
Staged stunt fights, bar room brawls - action all the way. Varied Fights: The Blaisdale Brothers, Bloodbath at Apache Wells, to name, but two.
Comedy
SHOOTING BOARD COMEDY SHOW
Watch as THE SUNDANCE KID bursts the balloons with his Colts as without a flinch (someone) holds the targets (TOTALLY SAFE).
Travel back in time with us to the days of the Wild West, to the smell of the gunpowder, the creak of the leather, the crack of the bullwhips and the whirl of the lariat. We have a part of the West to suit all tastes.
THE BULLWHIP
Bullwhip
Tricks with bullwhips, cutting targets, a display of the use of bullwhips, tack whips and drovers whips. Why Pardner I'll part yer hair without yer knowin' it!
ROPE SPINNING
Rope Spinning
The twirl of the Lariat, The Wedding Ring, The Merry Go Round and many more tricks as the ropes glide through the air. You don't have to go to a Western City for all this, we bring it to you, yes we'll bring a western town, part or full to a venue of your choice, watch the excitement as the boys go through the saloon batwings and windows. We can do shows with or without the town, in fact it would take many pages to explain the full show or shows. We can fit your size of venue, your programme time and we also do inside work.
Wild West
OPEN FOR BOOKING FOR: Children's Parties Garden Fêtes Galas Carnivals Clubs Cabarets Small Shows or Large Shows You name it - if it's Western we do it From a 3 Man to a 20 Man Show. More information and prices on request.
FOR YOUR INFO PARDNER ALL OUR SHOWS ARE FLEXIBLE TO SUIT YOUR SIZE OF VENUE, PROGRAMME AND BUDGET. We appreciate the time and effort involved in organizing an event, our aim is to make your planning for our show as easy as possible. We hope this information pack answers all your questions, however if you require any additional information don't hesitate to call us. May we wish you every success with your future events.
THE SMALLER SHOW
Starting with a Saloon (canvas steel framed false front) which would require a space of 40 feet from left to right and 70 feet from wall or hedgerow at back, to front to allow for arena. This would include our trailer which converts into a Western Mine Wagon and props. (SEE LAYOUT SHEET N0.1) This is a 3 man show
THE MEDIUM SHOW
Canvas Saloon and a wooden steel rigged Bank/Jail. A small version of our larger Boothill Cemetery and Western Mine Wagon. Measure from left to right 70 feet, from wall or hedgerow at back to front arena 70 feet- (SEE LAYOUT SHEET N0.2) This is a 4 man show
THE LARGE SHOW
Our larger show is a wooden false front steel rigged Western town. It consists of a Bank, Saloon, Jail and our large trailer which converts to a Covered Wagon. We also include the large Boothill Cemetery with humorous Headstones. We rig Boothill outside our main arena to allow the public access throughout our stay on the show-ground, at no charge. Boothill is a favourite for photographs. The large town requires a space of 120 feet from left to right and 70 feet from back wall or hedgerow to arena front. (SEE LAYOUT SHEET N0.3) This is a 6 man show
THE EXTRA LARGE SHOW
This show is the medium and large show rigged together, we would require 200 feet from left to right and 70 feet from wall or hedgerow to our arena front. (SEE LAYOUT SHEET N0.4) This is a 10-20 man show - Please ask for details
YOUR MAIN ARENA WALL OR HEDGEROW We prefer our show situated against a wall or hedgerow, so the audience see the impact of the western buildings and not behind the scenes. This also gives security for our equipment, guns etc. However, we can equally perform facing into your main arena depending on size we could erect our arena ropes in between other acts or permanently rig. For example situated left right of stage facing mid arena. (SEE LAYOUT SHEET N0.5)
PUBLIC ADDRESS
We use a quality public address system which we prefer to plug into a 240 volt 3 pin socket or equivalent fitting on a generator. However, if this causes you a problem or there is no convenient power source due to cable crossing, walkways, safety hazards, distance etc. We will run our system without quality loss, from our own vehicles, The audience are kept in touch with spot times, programme and presentation. Explanation of the use of rope bullwhips equipment, western
If you would like further details
about this act

please use the form below to contact us.
Or call us on 01723 891441