Horse Race Night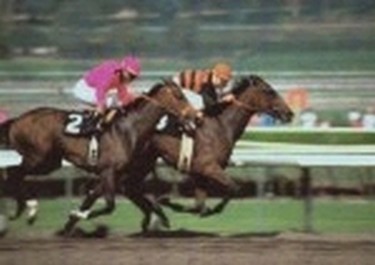 Race nights
This fact sheet covers some of the usual questions asked about race nights. It is not a definitive description of all the rules and regulations that apply to race nights. Reference should be made to the Lotteries and Amusements Act 1976 for precise details of the law.
Definition of a race night
Race nights are events in which participants stake money on the outcome of recorded races and where the selection is totally dependent on chance and where no 'odds' or 'form' are available to assist the selection.
Proceeds go to purposes of the organisation or a charitable purpose but are not for private gain or commercial purposes.
How to run a Race night
It is usual to run a race night as an amusement with prizes under section 15 of the Lotteries and Amusement Act 1976.
The race night must not be the sole attraction and must be part of an exempt entertainment such as a bazaar, sales of work, fete, dinner dance, sporting events or similar gatherings.
There are certain conditions set out in section 15, which must be observed when promoting and conducting a race night as an 'amusement with prizes at an exempt entertainment'. These are listed below.
The race night must not be the only, or only substantial, inducements to persons to attend the entertainment.
The whole proceeds of the entertainment, after deducting the expenses of the entertainment, must be devoted to purposes other than private gain
The hire of any machinery to run the race night can be defrayed from the proceeds but not if it is made in some way dependent upon the extent to which the equipment is used. For instance profit sharing arrangements between equipment manufactures, hirers and promoters would not be allowed.
Registration requirements
There are no registration requirements.
NB. DCMS cannot give authoritative legal advice about every possibility in this area. We strongly advise any individual or company seeking to set up these or any other types of Fundraising events to seek independent legal advice.
Pig Races
Really fun race nights are guaranteed when you run your event with our racing pigs. All runners have full names and saddle cloth numbers. World wide publicity followed these races and they add excitement and real originality.
Horse racing films, charity fundraising events, race nights UK
Horse racing films for sale or rent Charity fund raising race nights
Corporate event race nights Many new races added each year
All the fun and excitement of a DAY AT THE RACES on a giant screen, using fun money or better still, the real thing. You are guaranteed great fun and entertainment.
Dog Race Nights
British Isles UK races with 8 runners and as is usual with dog races many close finishes. All films have 8 runners and feature action replays.
Our events are tailor made for loads of audience participation and laughs.
Our races include flats, jumps, dogs and the first in the world, fun PIG races with funny names like Lester Piglet, Nyrene Dawn Porker and Douglas Hogg.
All great fun available for a great night out.
All our races are on 16mm, VHS and some on DVD, on which all can be customised and themed with your logo's, product launch pictures or can even feature moving pictures of your new Television advert.
Trotting Races
We have trotting films from Malta all with serious form guide. These are tremendously exciting and noted for very close finishes.
We can put on whatever you require.
A typical event includes a professional Compère, sound system, fun money, Tote betting desk, customised race cards and races for £294.12+VAT
If members of your staff are not available to run the Tote we can supply personality girls at £82.36+VAT each to take the bets.
All our races are in full colour with 8 runners.
To compliment our races we have tote tickets available in pads of 100 for one off events and rolls of 1000 for multiple events operators.
Full knowledge of how to organise and operate events supplied with our races.
For Bookings and Enquiries, phone now on 01723891441. You need to book well in advance for Friday or Saturday Nights to avoid disappointment. Events can be run any evening or at lunch time.
Flat/Jump Race nights
We have films from America, British Isles, Hong Kong and New Zealand. All our races have 8 runners with various introductions which include fun comments by a race card reader to serious race form guides from our commentator.
OUR FILMS are used by:-
Holiday Centres, Hotels, Cruises Ships, Fund Raisers, Corporate Events Companies, Pubs, Clubs, Trade Shows, DJ's, Karaoke.
Whether it be a corporate event or your local club fund raiser, your onto a winner with UBEEM.
Race Nights
Standard Pub/Club fundraiser - Com
If you would like further details
about this act

please use the form below to contact us.
Or call us on 01723 891441