Madrigal Singers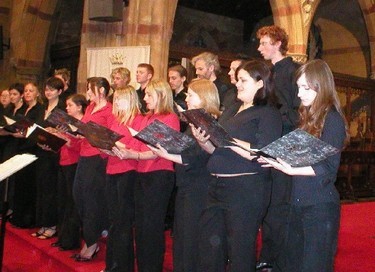 The Elizabethan Madrigal Singers are a mixed chamber choir (fondly called 'Mad's') which has been at Aberystwyth University for over fifty years.
They perform a wide repertoire of pieces from Elizabethan madrigals (naturally) to choral pieces, negro spirituals; etc without accompaniment. These are performed at concerts, which occur each term, as well as at any other events they are invited to participate in. The end of the academic year usually heralds a tour (hopefully to somewhere exotic!) to give us a chance to perform outside of Aberystwyth.
Repertoire
Elizabethan Madrigals Taken from The Oxford Book of English Madrigals
Thomas Morley (1558 - 1603) April is in My Mistress Face
I Love, alas, I Love Thee
Now is the Month of Maying
Sing We and Chant It
My Bonny Lass, She Smileth
John Bennett (c. 1575 - 1614) Weep, O Mine Eyes
John Wilbye (1574 - 1638) Adieu, Sweet Amaryllis
Flora Gave Me Fairest Flowers
John Dowland (1562 - 1626) Come Again
Orlando Gibbons (1583 - 1625) Drop, Drop, Slow Tears
The Silver Swan
William Byrd (1543 - 1623) Lullaby, My Sweet Little Baby
Choral pieces
Tebe Poem P.I.Tchaikovsky
God So Loved the World Sir John Stainer
Ave Verum Edward Elgar (1857 - 1934)
Wenn Ich Einmal soll Scheiden J.S.Bach
Freshwater (Sunset & Evening Star) Sir H. Parry
Locus Iste Anton Bruckner (1824 - 1896)
Traddodiad Tchaikovsky
Ave Verum Corpus William Byrd
A Prayer of King Henry VI Henry G. Ley
Aberystwyth (Iesu! Cyfaill F'Enaid Cu...) Joseph Parry
Spirituals/Gospel
Deep River (Traditional)
Good News arr: Wolfgang Kelber
L'il Liza Jane arr: Gordon Lawson
Miscellaneous
I Know what it Means to be Lonesome Kendis, Brockman & Vincent
The Mermaid (Traditional) arr: John Whitworth
The Goodbye Jazz Lyr: Tom Cunningham, acc: Paul Motham
If you would like further details
about this act

please use the form below to contact us.
Or call us on 01723 891441