Comedy Hypnosis Show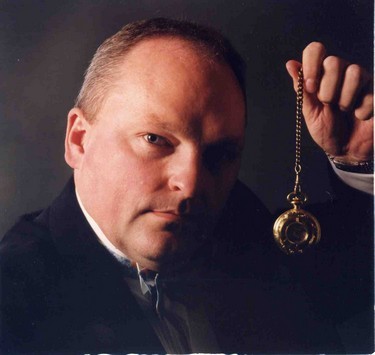 1 Hour cabaret show. - will induce several volunteers from the audience into a trance and then ask them to perform comedy acts as on the T.V. hypnosis shows. For example - someone will be asked to perform as a famous rock star giving a concert etc. etc. Lots of participation and laughs. Completely safe.
As seen on Channel 4 Big Breakfast.
Once under the hypnotic spell you will be mesmerised by his spectacular comedy act!
Become a mind reader, travels at the speed of light and becomes invisible!
So fast he can perform shows where other hypnotists dare not go!
International Comedy Stage Hypnotist.
Take a trance on me!
RECENT COMMENTS
'Spellbinding and very, very, funny!' Michael Parkinson
Touring across the UK now for the last 8 years and is set to become a household name with his hilarious hypnotic laughter show!
'A star is born!' Jimmy Tarbuck.
This amazing show is suitable for all audiences even where children are present. Classed as Britain's nicest hypnotist and is a true family entertainer.
'I have never has so much fun without the pain and that's no BULL' Jim Bowen.
If you would like further details
about this act

please use the form below to contact us.
Or call us on 01723 891441