Bagpipes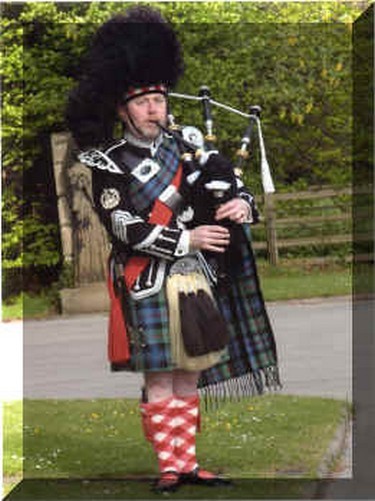 Ensure that your special event is a great success.
Make your special day sparkle and go with a zing, or simply listen to the lilting skirl of the pipes and hear the beautiful melodies of ancient Scotland - music that reaches the very depths of the inner being, and touches the soul !
Available for all your piping needs - weddings, christenings, parties, ceilidhs, dances, Burn's Night and Hogmanay.
To liven up your life with the skirl of the pipes.
To Make a Piper . . .
'To make a piper go seven years….. and at the end of his seven years one born to it will stand at the start of knowledge, and leaning a fond ear to the drone he may have parley with the old folks of old affairs. Playing the tune of the 'Fairy Harp' he can hear his ancestors plaided in skins, towsy-headed and terrible, heaving at their sodden oars or snoring in their hidden caves. Playing 'The Desperate Battle of the Birds' he will see the white-haired sea-rovers on the shore and a red stain on the edge of the tide. Lingering over a lament he can stand by the cairn of Scotland's past kings, ken the colour of Fingal's hair and see the moon glint on the sickle of the druids. This truly is music to stir the blood and reach the inner soul of man !'
Neil Munro
Pipe Major Piper for all occasions having been playing the Scottish Great Highland bagpipes for over 40 years. Having performed at many different types of occasion - weddings, birthday parties, ladies nights, Burns nights, ceilidhs etc to TV and radio, orchestral performances, international music and dance festivals and pipe band competitions in Britain and almost every European country.
Over the years played with a number of pipe bands including, City of Manchester, West Yorkshire Service, Clan Sutherland and most recently Pontefract Caledonian. Holder of an advanced certificate from the Royal Scottish Pipe Band Association and have a full teachers certificate for the Royal Scottish Country Dance Society. Also play for Highland and Scottish Country dancing and teach piping at home. Regularly play for the dance teams of the Scottish Country Dancers.
Few musical instruments stir the emotions more than the Highland pipes. From atmospheric slow airs to rousing quick marches and foot tapping reels, jigs and strathspeys. Having very wide repertoire of tunes for the pipes and can advise you on selections from the well known favourites to ones with special meaning for your occasion.
Can offer three styles of dress. Day dress (equivalent to a lounge suit). Evening dress, (equivalent to morning dress or dinner jacket) and for a little extra Full No1 Uniform as seen in the photograph.
If you would like further details
about this act

please use the form below to contact us.
Or call us on 01723 891441