Brazil Dance Troupe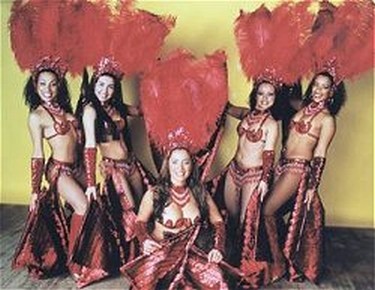 The sound and colour of the carnival at your event. A most charming display of latin american dancers.
Provides the finest music and dance of Brazil and Latin America.
We offer special performances in over twelve Latin dance forms and our team combines elegance with energy and a flamboyant display of exotic costumes.
From Samba Extravaganza to Capoeira and Salsa, our band and dancers echo the ambience of Rio during Carnival time.
Since 1990, toured four continents and won the applause of many audiences from singapore to Slovenia, and Kenya to Karachi.
Our band and singers have played in London's Savoy, the Royal Houses in Monaco and hannover and to street festivals in Portugal.
In 1998 performed at the wedding of Spice Girl Mel B and our recent TV appearances include BBC TV for Comic Relief and The Graham Norton Show on channel 4 (2001 & 2002).
Available for private parties, promotion, street carnivals, theatre shows and outdoor events.
Our dancers and musicians are professionally trained artists from Brazil.
Can organise your event, private party, promotion, street carnival or outdoor funtions by providing the Latin American Atmosphere.
THE BANDS
Latin Band
Funded in 1990; highly experiencied musicians and female vocalist; from 2 to 12 musicians palying Bossa Nova, Jazz, Lambada, Samba, Reggae, Batucada and Latin Chart Music.
Delirio Tropical band
Funded in 2000; experiencied musicians and female vocalist; from 2 to 12 musicians palying Salsa, Merengue, Cha-cha and Contemporary Latin Chart Music.
Brazil Samba School
Funded in 1990; from 6 to 20 musicians and samba drummers; from the streets of Rio de Janeiro; Carnival, Batucada, Samba; ideal for Street Carnival Parades.
If you would like further details
about this act

please use the form below to contact us.
Or call us on 01723 891441